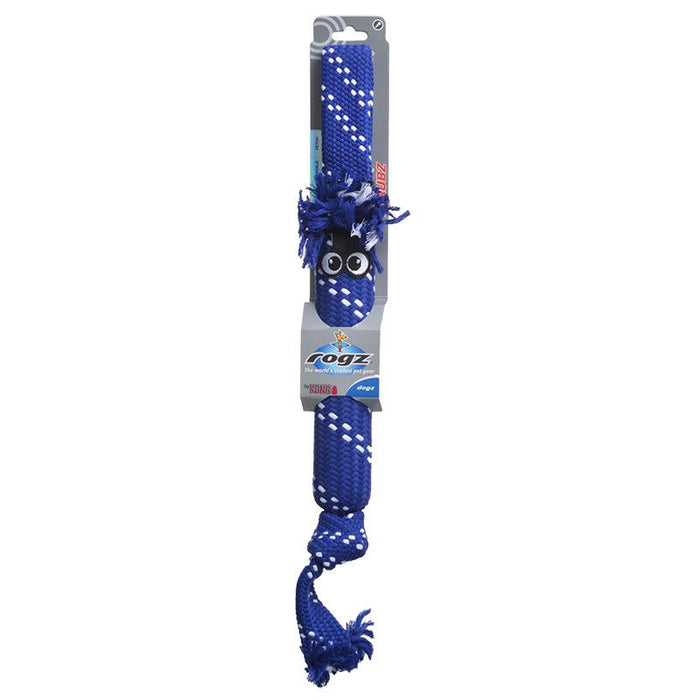 Gain true BFF status with your new pal with a toy that combines health benefits with fun! 
The Rogz Scrubz Dog Toy ticks off those check boxes, adding even more stimulation to his toy collection! With a sturdy, functional loop handle at one end and a knot with fringe at the other, you'll have no trouble standing your ground during some friendly tug-of-war.
Mandy says that fetch is one of her Australian Shepherd's favorite games, and that the loop has helped her perfect the art of the fetch-fling. "As much as I love my dog, I get a little grossed out at his excited slobber," she confessed, "and the loop side lets me avoid some of that."
Oh — we mentioned health benefits. The woven rope is made with a thick, cotton-polyester blend, which naturally helps clean his teeth and strengthen his jaw. The satisfying crinkle and crackle offer mental benefits, too! The sound is both stimulating and rewarding for your pooch, so bring it out when you've got things to do around the house.
Features
Cotton-polyester blend; soft and durable for chewing/cleaning teeth
Sturdy loop handle allows for a firm grip for tug of war, or easy throwing
Playful fringe and rewarding crackling sounds for stimulation/entertainment
Tested by dogs for long-term play
Details
Color: Assorted, Bright
Size: Medium - 17.2" Large - 21.2"
Recommended Life Stage: Puppy, Adult
Recommended Breeds: All
NOTE:
Colors will ship randomly: pink, green, blue, orange, or red.
Included: 1 Pc Rogz Scrubz Dog Toy