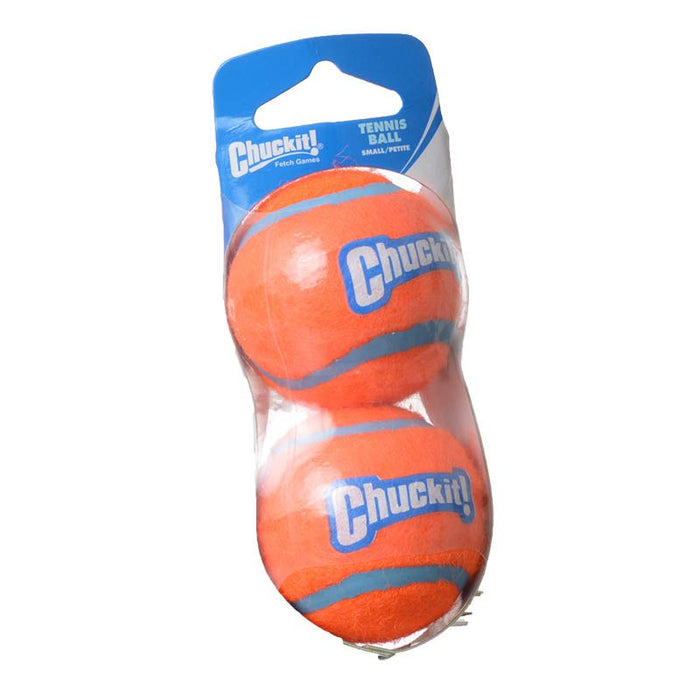 Peas and carrots. Forrest and Jenny. A dog and his ball. All matches made in heaven… but for the latter, any ball will do, right? Not when you know just how fast they can get lost or destroyed!
The Chuckit Tennis Ball boasts an extra-thick, natural rubber core, which means high-bouncing fun and intense games of fetch. With bright, high-visibility colors, there's less risk of your pal's ball getting lost in the woods, shrubs, or dirt while playing outside.
Covered in soft felt, the ball is comfy enough for him to carry, yet sturdy enough for extended play. It's gentle on teeth and gums, lightweight, and floats easily, so afternoons at the beach or pool just got tons more enjoyable!
Our 2-packs of Chuckit Tennis Balls come in two different sizes, giving dogs of all breeds and sizes a chance for fun! Carrie, who loves taking her pal to the park on the weekends, says she's thrilled she's found an affordable place to stock up on her 3-year-old Labrador's go-to toy!
Features
Natural, high-bounce rubber core
Lightweight and water buoyant
Tested by dogs for long-term play
High visibility colors
Compatible with Chuckit Ball Launchers
Details
Color: Bright Orange + Blue/White
Size: Small - 2 x 2" Medium - 2.5 x 2.5"
Recommended Life Stage: Older Puppy, Adult
Recommended Breeds: Small, Medium, Large

Included: 2 Pack Chuckit Tennis Balls