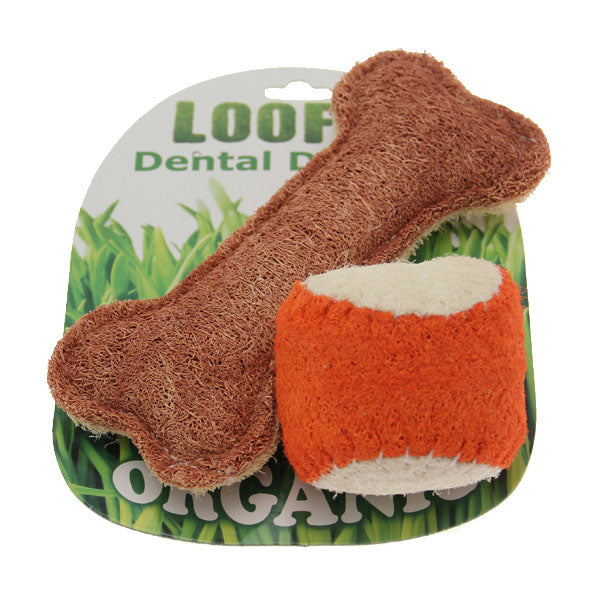 Ball and Bone Loofah Dental Dog Toy Combo
All the love in the world won't make her ripe, gamey kisses any easier to stomach. If your dog gets anxious when you try to clean her teeth, having dental toys at the ready will help between brushings.
Plus, you can't beat toys that are meant to be shredded!
Hip Doggie's Loofah Dog Toy Combo is perfect for her to sink those chompers into. Made in the USA, the loofah fibers act as a natural floss each time she bites in. While it's not meant for consumption, the Loofah Toy Combo is certified 100% organic from the squash family, and completely digestible if eaten.
Chris lets his Mastiff chew on her loofah bone for a couple hours a day, 2 times a week. "She's on her fourth go this week. It's a little shredded but she still goes nuts for it when I bring it out. The bone gets more chewing for sure, but she loves to chase the ball."
Remember, this toy serves a great purpose, but it isn't meant to be everlasting. If any loose piece has you worried, simply throw it away once it's come free!
Hip Doggie has added a meat flavoring to this vegetable-based toy to make it irresistible for your girl, and you'll get it within 3 to 5 businesses days of your order!
Features We Love
100% certified vegetable organic
All-natural floss
Stimulating loofah material
Details
Color: As Pictured
Size: Bone measures approximately 6.9"
Ball measures approximately 2.5"
Included: 1 Pc Loofah Dental Dog Toy Combo