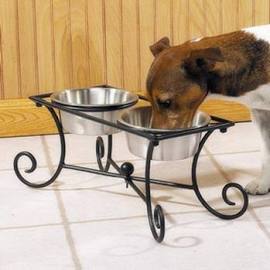 Wrought Iron Raised Dog Diner
Feeding time is his favorite time! But if he's getting up there in years or suffers from arthritis or weak joints, it might not be as great — or healthy — for him as it could be.
Pet Studio created the Wrought Iron Raised Dog Diner, so your pal can stand in a natural position while eating. This improves his body alignment, which eases the strain on his joints and aids in digestion. The diner combines durability and class with elegant scrolls of wrought iron, powder-coated in black to blend sleekly with any décor.
"I have your typical apartment kitchen," Chelsea messaged, "and a Border Collie who isn't so little anymore either, and has a sensitive tummy. This diner hits all my marks. We've been using it for a week now and he's had no belly issues."
Messes like that aren't fun for anyone, so we're glad he's doing better!
The stainless steel bowls are removable and dishwasher safe. Reduce the strain on your doggo's back and neck, so he can enjoy more comfortable feeding times and a happier tummy!
Features We Love
Dishwasher safe bowls
Elegantly styled
Aids in digestion
Improves posture; relieves strain on weak joints/arthritic bones
Details
Color:
As Pictured
Size:
3-Quart Bowls (96 oz/12 cups/ 2.8 L)
26" x 11.25" x 15"
Included: 1 Pc Wrought Iron Raised Dog Dinner + 2 Bowls