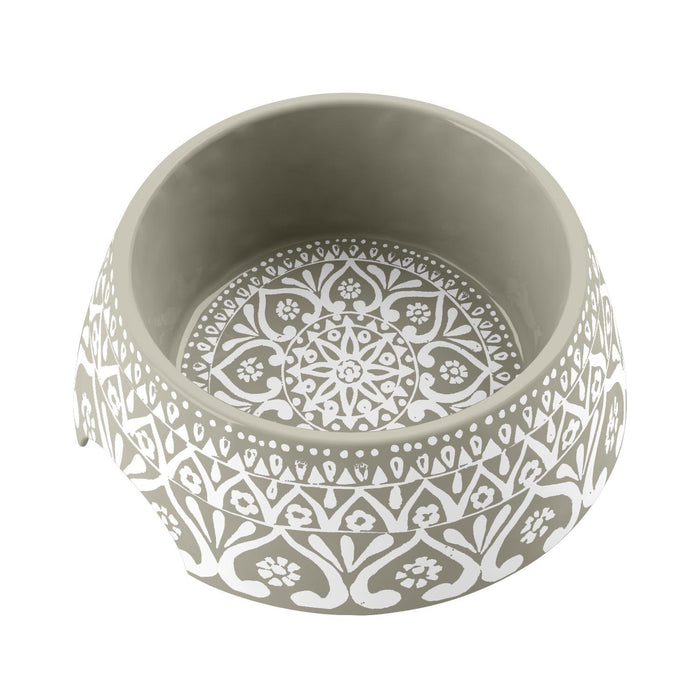 Your pup's got style from his head to his toes, so a dull, scratched up dish won't do for your dynamic doggo!
The beautifully designed Boho Medallion Dog Bowl by TarHong looks and feels like ceramic yet lacks the clunky weight and breakability factor. It's functional enough for daily use, whether indoors or out, and will resist breakage, chipping, and scratches.
"Do you know how many bowls I've been through in CeeCee's first year?" Valerie joked in her letter. "Well, it's been a lot. This bowl looks as classy as others I've gotten, but we've had it for weeks now and it's still intact. Not a mark on it!"
As it should be!
Made in the USA with bamboo fiber melamine, the Boho bowl boasts a food-safe, LG glazed finish over a hand-painted appearance via 3D printing technology. It's 100% BPA free and dishwasher safe.
Ditch the drab bowls and go Boho for your BFF!
Features We Love
Dishwasher safe bowls
Scratch and chip resistant
100% BPA free, food safe
Unique design
Details
Color: As Pictured
Size: Medium: 7.1" x 7.1" x 2.8"
Included: 1 Pc Boho Medallion Dog Bowl