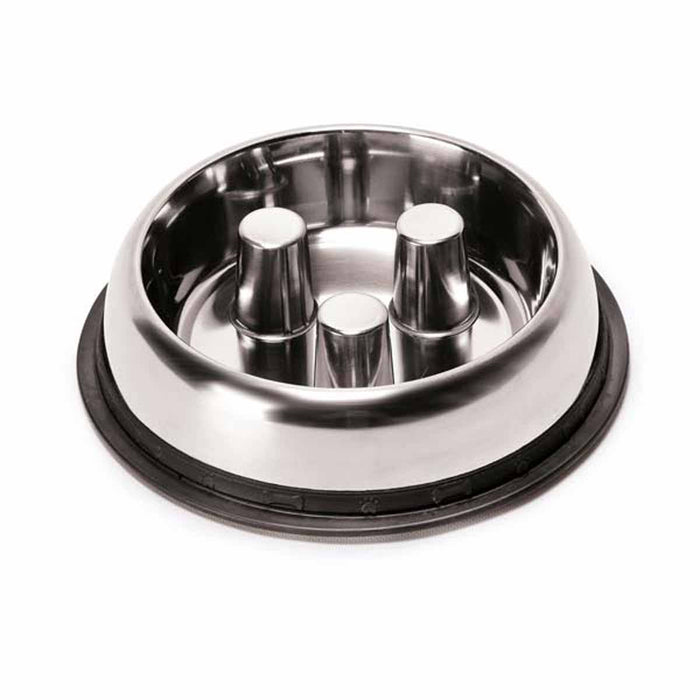 ProSelect Stainless Steel Slow Feed Dog Bowl
You've got a doggo vacuum. You barely even get the bowl down and he's already inhaling that kibble like it's the last time he'll be fed this century... or today, anyway!
Designed with fast eaters in mind, the vet-recommended ProSelect Stainless Steel Slow Feed bowl forces your pet to eat more slowly. They'll feel fuller, and by lowering the chance of "re-eating" there'll be fewer upset bellies and messes to clean up.
Laura and Adam have been using the large size feeder for their Great Dane. "So, he does still knock us around at feeding time, and we're working on that," she joked in her message, "but the bowl stays put while he's eating, and it's for sure slowed him down. There's been NO puke bombs at all this week!"
That's a cease-fire on puke bombs, guys!
Slow his roll with the USA-made ProSelect slow feeder. It works like a charm and can be hand washed or placed in the dishwasher. Make sure to check out detailed cleaning instructions below.
Features We Love
Works with kibble or canned food
No-tip design; won't spill while your doggo eats
Bowls and hardware are 100% stainless steel
Removable posts and rubber ring
Details
Color:
As Pictured
Size:
Small: 8"D (base) x 2"H; 12oz / 1.5c / 354mL capacity. Best for Daschunds, toy breeds, and other "flat-faced" pups
Large: 13"D (base) x 3"H; 64oz / 8c / 1.9L capacity. Best for giant breeds like Mastiffs, St. Bernards, etc.
Included: 1 Pc ProSelect Stainless Steel Slow Feed Dog Bowl
**CLEANING INSTRUCTIONS: For best results, unscrew the three posts and hand wash the bowl and posts in hot, soapy water. Let dry thoroughly in dish rack. Do not over-tighten when screwing the posts back on. If using a dishwasher, place the posts on the upper rack. Remove rubber ring from bowl and wash it separately, as the heat of the drying cycle will ruin the rubber. Place bowl on bottom rack and wash on normal cycle.