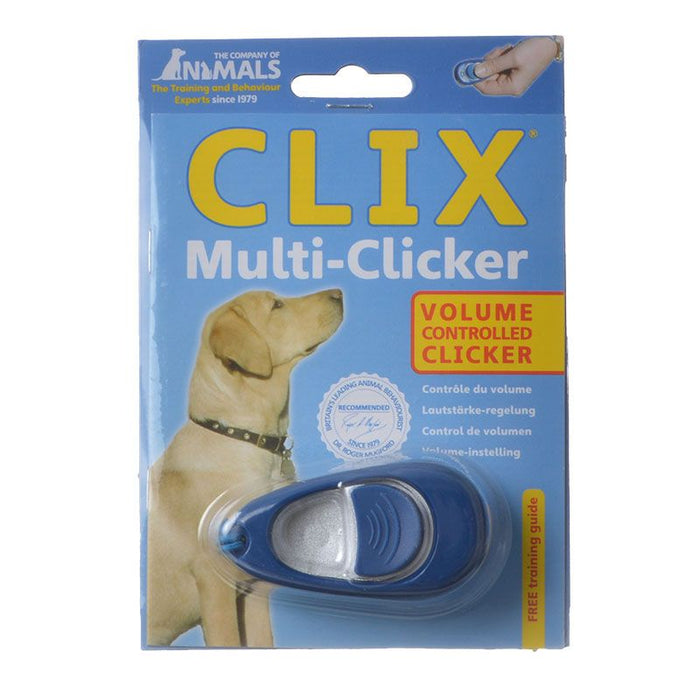 Company of Animals Clix Multi-Clicker
Have you just adopted a new puppy? Congrats! There's lots of ways to train small, excitable puppies — or correct and instill new habits in older dogs. If you're looking for something that's simple and humane, try the Clix Multi-Clicker by Company of Animals.
Why this one? All clickers are the same. We've heard that, too. The premise of a clicker and how it's used is the same across the board. But Company of Animals has been fine tuning the art of dog training for over 30 years, and what's special about this clicker — beyond ease of use, affordability, and portability — is the patented volume and tone control.
Elliot rescued a Poodle Terrier mix who had a pretty rough start to life. He was very timid and fearful for the first year they lived together. She says loud, sharp sounds still scare him, sometimes. "He's 3 now, and such a little character, but we were still dealing with leash pulling," she told us. "We live in the city and I'm always scared he'll break free. Being able to change the sound and the volume has made the difference. I ditched my old clicker and got a couple more of these, just to have extras around the house."
Whether you buy a couple spares or just one, the Clix Multi-Clicker features a sturdy, fabric loop, making it easy to keep it on you at all times during training. You'll also get a FREE, comprehensive training guide to help you get started on using your clicker, and teaching basics like sit, lie down, recall, and heelwork.
Features
Volume control
Tone control
Sturdy, stretchable cord to keep on you at all times
Durable construction
Details
Color: Blue
Size: 5.9 x 4.7 x 0.4"
Recommended Life Stage: All
Recommended Breeds: All
Included: 1 Pc Company of Animals Clix Multi-Clicker