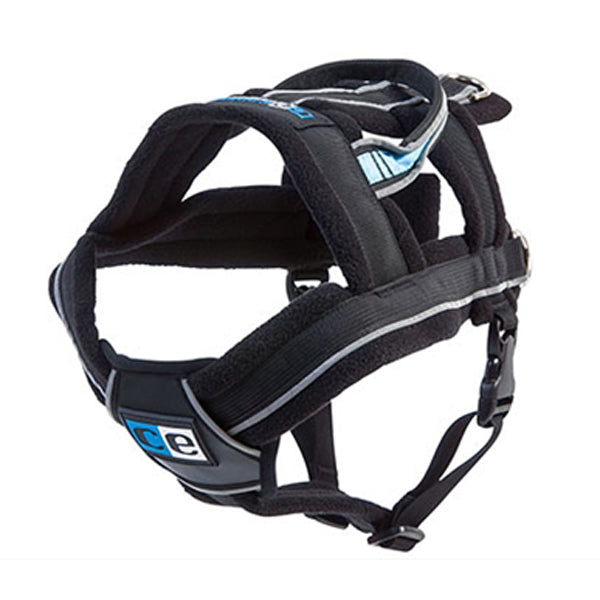 Ultimate Pulling Dog Harness by Canine Equipment
You're an avid runner. Bikerides are your fun-time, and you like to bring your pal along with you. Or, perhaps your dog is involved with seasonal joring sports, or you're thinking about doing some training. At the heart of it all, you've got a strong boy who needs a strong harness.
That's where the Ultimate Pulling Dog Harness by Canine Equipment comes in!
The extra padding and fleece lining offer protection and comfort for higher levels of activity by evenly distributing pressure across the chest and shoulders, along with added traction to minimize painful shifting. Jessica and her Rhodesian Ridgeback are very active. "Mostly I run, and with this harness I can enjoy a hands-free run every day, and Hank is a lot happier, too!"
That's the way it should be!
What about nighttime runs? It's good that you asked! This USA-made harness has reflective 3M piping, which helps keep you and your woofer safe no matter when you go for exercise.
Features We Love
2 adjustability points for the right fit
3 stainless steel D-ring leash attachment points
Heavy duty rock lockster buckles with a high break strength
Fleece-lined and padded for extra traction, stability, and reduced shifting
Harness Size Chart
| Size | Chest | Weight |
| --- | --- | --- |
| Small | 18 - 26" | 15 - 25 lbs |
| Medium | 23 - 21" | 25 - 40 lbs |
| Large | 29 - 39" | 40 - 75 lbs |
| X-Large | 34 - 46" | 75+ lbs |
Included: 1 Pc Ultimate Pulling Dog Harness