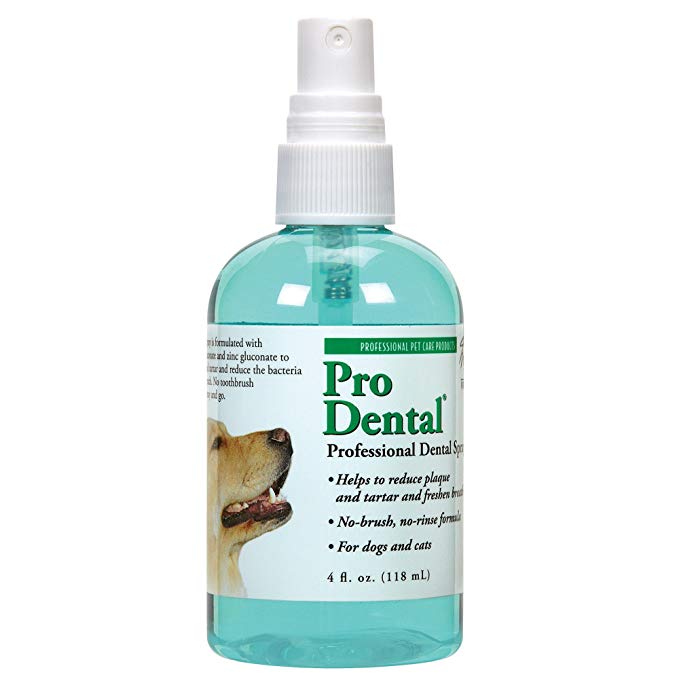 Top Performance Doggie ProDental Spray
Dog breath. It's a given, and a small price to pay for the love of our furry friends. Still, you don't want to let her oral health slide. Ripe breath is one thing, but harmful buildups of bacteria, plaque, and tartar is a place no one wants to go — especially your BFF.
The Top Performance ProDental Spray is a fast and easy path to fresh breath and healthy chompers. Just spray right into your pal's mouth — no rinsing or brushing is necessary!
The latter was especially exciting for Kelly and her Malamute. "Brushing AJ's teeth isn't easy for me," she told us in a message, "but this has been SUCH a game changer! It takes just seconds, and we're both happier for it."
That's something to smile about!
Be proactive about your pup's oral hygiene. It's never been simpler than with ProDental Spray.
Features We Love
Reduces bacteria that causes bad breath
Helps reduce plaque and tartar buildup
Easy to use: no rinsing or brushing required
Doggo kisses just got a whole lot fresher
Details
Size: 4 fluid oz.
ACTIVE INGREDIENTS: Chlorhexidine gluconate 0.12%, zinc gluconate USP 0.1%.
OTHER INGREDIENTS: Deionized water, glycerin, polysorbate 80, sorbitol, sodium benzoate, eucalyptus oil, FD&C blue #1.
Included: 1 Pc Top Performance Doggie ProDental Spray