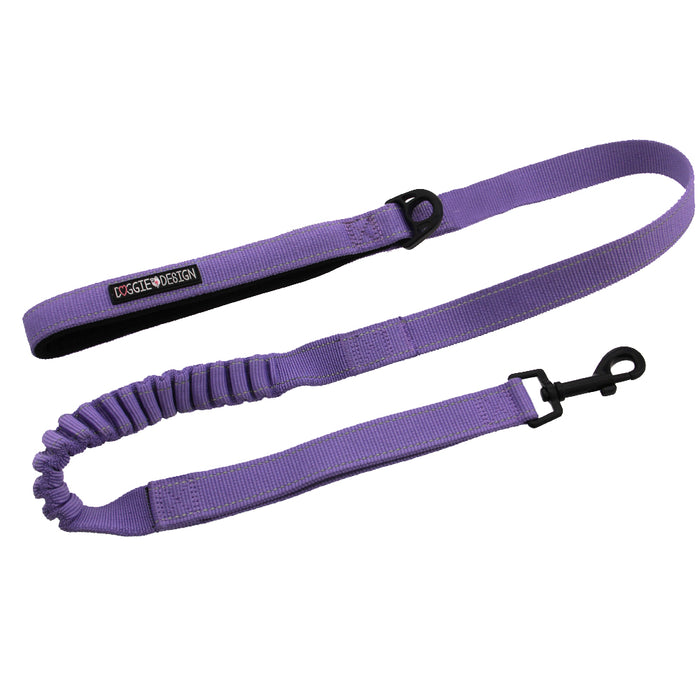 Soft Pull Traffic Dog Leash by Doggie Design
You've got a great harness for your doggo, but not all leashes are created equal, especially when it comes to the comfort of your hands — reactive pup or not!
The Soft Pull Traffic Dog Leash by Doggie Design was made in the USA with his safety and YOUR comfort in mind! Featuring heavy duty black Delrin® industrial strength D-rings, black nickel snap hooks, and 1" wide, non-fray polyester, this leash combines top notch durability with a soft grip, Traffic Control handle.
Melissa deals with carpal tunnel from years of playing violin and daily computer work. "Ginger isn't super reactive or a major puller or anything, she's just big," Melissa writes. "The stretch factor definitely helps here, but I really like how soft the handle feels in my palm, let alone how much better it is for my wrists!"
Two birds, one stone? More like two happy hearts, one leash! Available in two colors, this leash ships from the U.S. and should arrive in 3 to 5 business days. It's perfect for floofs of all breeds and sizes and can attach to any collar or harness!
Features We Love
Traffic Control, Soft Grip handle
Heavy Duty Delrin® D-rings, custom molded, industrial strength
Heavy Duty black nickel Snap Hooks
1" wide, super durable, non-fray 100% polyester
Details
Color: Cobalt Blue, Red, Black, Candy Pink, Paisley Purple
Size: 4" length; 6" stretch factor
Included: 1 Pc Doggie Design Soft Pull Traffic Dog Leash