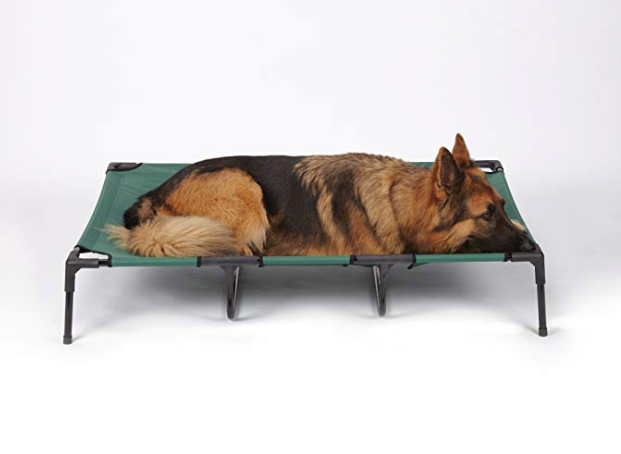 If you and your pal live in warm climates, you've probably dealt with sweaty, nasty beds — especially if he's got a lot of fur! Or perhaps the floors are cold in your northern-state home but your pal doesn't care for plush, pillow-like beds.
The elevated Pet Cot by Guardian Gear is built to handle up to 200 pounds, so nearly every breed can bask in more comfortable naps. This USA-made pet cot features heavy-duty polyester oxford fabric that's UV-resistant, water resistant, and easy to remove for cleaning. Strong, Touch Fastener® tabs can be adjusted to change the surface tension, which attaches to a powder-coated, rust-resistant steel frame.
It's easy to assemble and disassemble, too! Andi likes to go camping on the weekends and loves that she's got a better way to comply with her arthritic Shepherd's needs. "I don't have to bring any tools or anything," she writes. "Lex has always loved coming on our trips, but on the last two she didn't rest very well. Now she can."
We're thrilled!
The breathable material allows for better air flow, which means a cleaner, healthier environment and more restful sleep — which in turn means a happier pup!
* Check out the video for assembly tips!
Features We Love
Heavy duty, UV and water-resistant cover
Easy assembly/disassembly
Lightweight and travel friendly
Accommodates dogs up to 200 lbs.
Ships from the U.S., arrives in 3 to 5 business days
Details
Color:
As Pictured
Size:
Small: 24" x 18" x 7", 100 lb. capacity
Medium: 30" x 24" x 7", 120 lb. capacity
Large: 36" x 30" x 7", 150 lb. capacity
X-Large: 48" x 36" x 9", 200 lb. capacity
Included: 1 Pc Guardian Gear Pet Cot