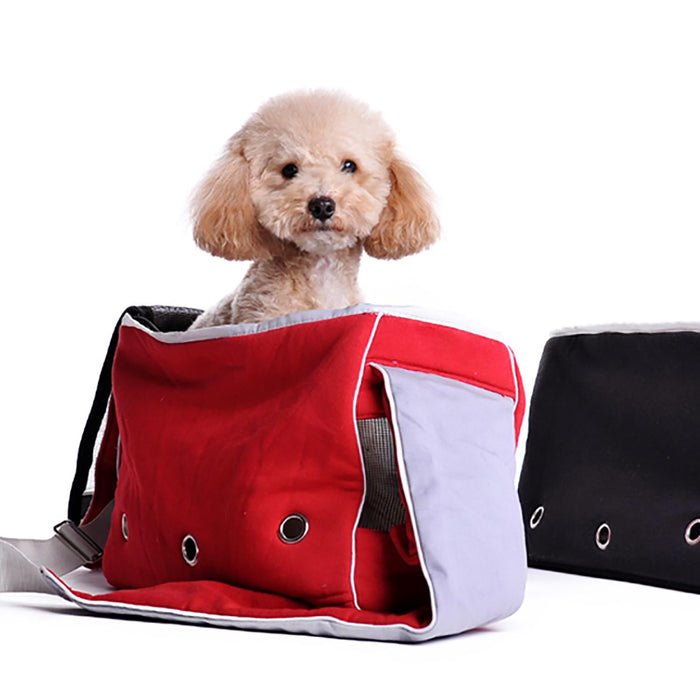 Boxy Messenger Bag Doggie Carrier by DOGO
Where you go, he longs to follow — and when it comes to service dogs, that longing doubles as necessity.
With a soft, canvas exterior, a hard, sturdy base, and an adjustable shoulder strap, the Boxy Messenger Doggie Carrier by Dogo allows you to bring your small-but-mighty pup everywhere you go. This bag is USA-made and features metal air vent holes to make his space breathable for times he's closed within. Or, he can pop his head out to scope out the surroundings by unzipping the canvas cover half way.
"Joey is my seizure dog," Paxton wrote us. "He weighs about 5 pounds and fits perfectly inside with room to spare. I can also bring his leash, treats, waste bags, my phone... there's plenty of pocket-space for what I need. There's nothing I dislike about this bag, and I'm so thankful to have found it!"
Extra pockets? Yes! You'll find the cellphone pocket on the main strap, a large pocket on the back, and two pockets inside the carrier. When you need to keep your pal at your side, this vibrant, lightweight carrier provides comfort and security to both you and your faithful companion.
Features We Love
Lightweight canvas with a hard, sturdy base
Metal air vent holes
Mesh window cover that zips open on one side
Adjustable shoulder strap
Details
Color: As Pictured
Size: 15" L X 6" W X 10.5" H
Note: Best for teacup/toy breeds between 3 - 10 lbs.
Included: 1 Pc Boxy Messenger Bag Doggie Carrier