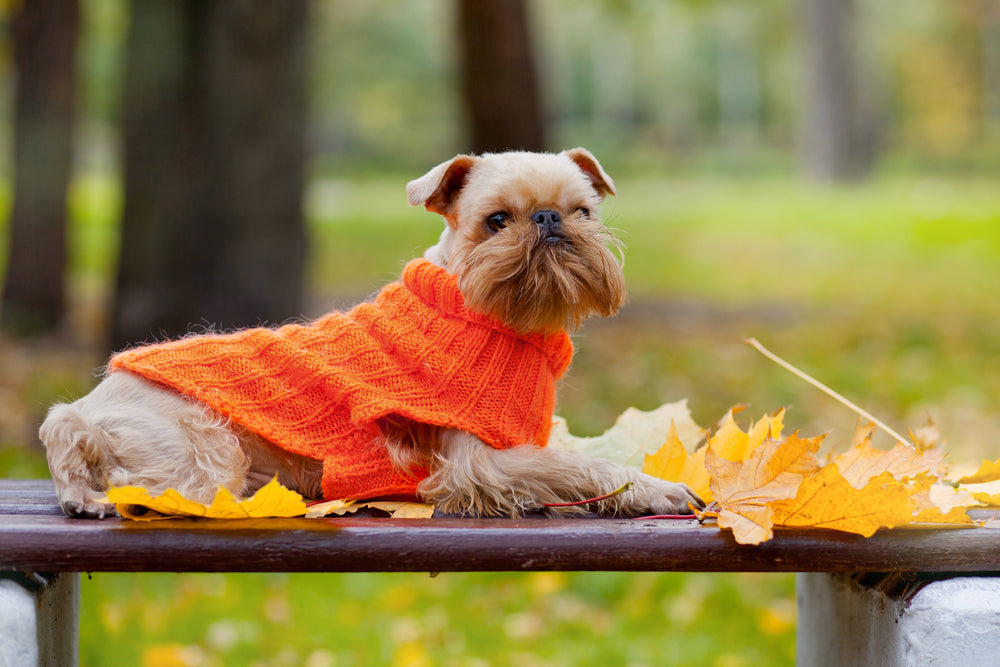 6 Cute Sweaters You Can Make for Your Dog
It's hard to imagine right now, but the cold weather will be here before you know it. There are tons of adorable dog coats and sweaters on the market... and trust me, I've already started browsing! My dog has taught me so much during her first few months home, so there's nothing I'd like more than to find the PERFECT sweater to keep her cozy when I can't... preferably one that matches her collars or doesn't clash so much with her short, tan and white fur.
At 61 pounds, she's not small... but I didn't think she was a giant, either. I'd find the perfect sweater or coat, only to find that she outclassed the size chart. On the flipside, jackets and sweaters that fit her size didn't really fit her personality.
Because I wasn't finding anything that worked, I switched gears and started looking for dog sweater patterns instead. Not a lot of people know this about me, but I LOVE to crochet! My favorites folder was bursting at the seams by the time I was done looking... so it was hard to pick which ones to share! 
Let's start with dog crochet patterns

Lion Brand® Yarn Company
The Astra Dog Sweater: This pattern is beginner friendly, and according to reviews works well with different bulk yarn styles. Neck circumference range: 12 - 18 in. Chest measurement range: 16 - 28 in., which includes 2 - 3 in. of belt adjustment.

Lion Brand® Yarn Company
The Poet Dog Sweater: I can't wait to dust off my hook to make this one! Although marked intermediate, reviews state this pattern worked up easily. Neck circumference range: 11 - 16 in. Chest measurement range: 18 - 26 in. Finished length range: 14 - 22 in.

Lion Brand® Yarn Company
The Lady Who Lunches Dog Sweater: Okay, I could NOT resist this pattern — nor the thought of making a couple extra sweaters with different rose petal colors! This pattern is marked as intermediate but has been rated by users as easy. Chest circumference range: 18 - 30.5 in. Finished length range: 11.5 - 13.5 in.
And let's not forget about dog knitting patterns!

Red Heart Yarn Design Team
Life is Ruff Knit Dog Sweater: It's simple, it's cute, and it's perfect for those ruff, chilly days. This pattern is marked easy, covers a wide size range, and knitters have substituted different yarn types with success. Chest circumference range: 15 - 44 in. Finished length range: 11 - 28 in. 

Bernat Design Team
Sparky's Favorite Knit Sweater: What a cute hoodie! I've only tried knitting once — with little success — but this sweater makes me want to pick the needles up once more. This easy pattern fits chest measurements ranging from 10 to 24 inches.

Yarnspirations Design Team
Patons Cables and Hearts Dog Coat: This pattern was designed for Patons Canadiana yarn, which is easy to care for, but you can use any yarn you choose! The classic cables and hearts are worth the intermediate skill level, and it will fit chest sizes ranging from 10 to 30 inches.
These are all super cute... but does my dog NEED a sweater?
When dogs can't generate or retain enough body heat on their own, they might need some extra help. If your dog falls into one of these categories, it wouldn't hurt to knit them a sweater or two:
Small dogs
Elderly dogs
Chronically ill dogs
Greyhounds, whippets, or other lean, short-haired dogs
Plus, if you're like me and keep your heat down to save on energy costs, your dog will LOVE wearing a cozy sweater while they curl up on the couch!
I'd love to know which pattern you like best, whether you're planning this year's holiday gifts or your own dog's winter wardrobe! Better yet, show us a picture of your dog in their FAVORITE sweater (along with why they're your best friend), and we'll feature it on our social media!
Did you enjoy this post? Please give it a like and share it with your friends! Thanks! 🐶❤️🐾